Avoiding rigid processes, supporting a variety of projects - Blue Ant in use at HiSolutions AG
HiSolutions AG, based in Berlin, is one of the most renowned consultancy firms for IT-governance, risk & compliance in the German-speaking world. It combines highly specialised expertise in the areas of information security and IT consultancy with an in-depth insight into corporate processes in a wide variety of industries.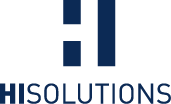 We're more structured than before, and know a great deal more about we're currently doing.

MR RUSTERMEYER - SYSTEM SECURITY DIRECTOR
We spoke with Frank Rustermeyer, System Security Director in HiSolutions AG, about his company's decision to introduce the multi-project-management software Blue Ant.
What is your position in HiSolutions AG, and what is your remit?
I'm System Security Director in HiSolutions, and I deal with all aspects of information security, system security (network and system security, technology studies, audits) as well as security management (security concepts, baseline security). My area of expertise includes public key infrastructures and electronic signatures (in accordance with signature law). As a member of the management team I'm also responsible for our project management processes.
Can you describe the project environment in HiSolutions AG?
The project environment in our company varies a great deal. The 500 customer projects (in various fields of consultancy, from technical IT security to crisis management and IT strategy) that we handle in the course of a year range from small, one-person workshops right up to complex organisation projects with many internal and external participants and long timelines. The content of projects – just like their size – also varies significantly – from standardised audits to research and development tasks where we often break new ground.
What prompted you to introduce a multi-project management software in HiSolutions?
We had several parallel Excel solutions, some of which had become redundant in certain areas of the company, and transfers had to be carried out manually – and rather laboriously – between them. The result was that so much effort was expended on producing reports that they were often out of date by the time they were ready to use. This meant that hitches in projects weren't spotted until it was too late.
What was the decisive factor governing your decision to go with Blue Ant as a multi-project-management software solution?
We contacted ten manufacturers, from which we drew up a shortlist of five who we invited to make a presentation. As our requirements - chief among them web-based interfaces, VPN compatibility, a variety of settlement types and ease of use – were addressed by Blue Ant, it made the final running. What really clinched it in the end was the product presentation and the pricing structure.
When did you introduce Blue Ant? / When did the introduction process begin?
We put out a call for offers and RFPs with a requirements catalogue in July 2010. Having appraised the responses we sent out the invitations in October 2010, whereupon we opted for a two-month pilot phase with Blue Ant. Encouraged by the positive experience of using the pilot, we purchased Blue Ant in early 2011, and once the customising and the user training were successfully completed, our employees began using Blue Ant on a daily basis in August 2011.
What form did the introduction process take? Were there complications? How did the software go down with the staff? Was there anything they particularly liked?
Overall the software has gone down very well with the staff. At the start there were problems with reporting errors, but these were ironed out in the subsequent version. Thanks to the individual training, which we approached as a process rather than as an exercise in product knowledge, the introduction phase went relatively smoothly. At first the feedback from staff was mixed, because some processes were easier and others – though they often resulted in better reporting – were found to be more difficult. Even now we still keep getting surprisingly positive feedback, especially when, for example, an employee discovers some new evaluation or overview for themselves.
What has changed about your project work since adopting Blue Ant?
We're more structured than before, and know a great deal more about we're currently doing! So for example we now have documented processes for initialising a project and for winding one up, which we support with the checklists that come with Blue Ant. Using the project status options we can assess – to the day – which projects are currently ongoing, are being planned or have been completed. Using the freely-definable database fields, we have been able to store item numbers for our activities, which allow us to evaluate how the demand for certain types of consultancy develops.
In what way could you see Blue Ant being profitably used in other companies?
In consultancy, of all industries, it's hardly possible to manage a variety of projects without a suitable tool. Any tool has to support the processes without being too rigid. This is where Blue Ant came into its own: we realised we had a lot of latitude in the customisation section, which already came equipped with pertinent and useful defaults. So that means standard configurations can be transferred where they need to be without difficulty, and adjustments can be made for the company itself where it seems appropriate.
You took part in the 2011 Blue Ant Forum. How did you find being able to exchange ideas with other Blue Ant users.
Very interesting, and once again I found a new functionality! Some staff had been suggesting that reservation requirements should be able to be derived automatically from the project plan. I didn't find out that the version we were currently using could do that until I started using the Blue Ant forum!
How would you like to see future collaboration with proventis progressing?
I'd like to see as many of our suggestions for improvement as possible being taken on board. These include the option to evaluate turnover prognoses and the integration of invoicing into the project menu. The fact that up to now we've been able to play an active role in the Future Trend workshops is also very positive.
What's your favourite Blue Ant functionality?
That's difficult to say: certainly the absence overview on the start page is one of them, as are the one-click warning for weeks not yet reported as complete and the templates I've been able to put together for controlling evaluations.
Thanks for your time Mr. Rustemeyer!
(Client Review from 2011)
BLUE ANT HELPS YOU WITH

TIME RECORDING