Blue Ant multi-project management software in use at Dr. Lauterbach und Partner GmbH (today delaware GmbH)
LP. Is a medium-sized software and con-sulting company with 100 employees that has successfully implemented leading ERP systems in the printing and packaging in-dustry since 1992. Its customers include both medium-sized and globally active companies. The solutions are based on the world's leading SAP standard software.

We liked the Blue Ant interface and the contact to proventis so much that we were quickly sure that we would continue with the solution.

MR STEINBRECHER - PMO
We spoke to Jörg Steinbrecher, from the PMO at Dr. Lauterbach und Partner GmbH, about the introduction of Blue Ant.
Mr. Steinbrecher, what position do you hold at Dr. Lauterbach und Partner GmbH?
I have been working in the PMO since 2016 and started with the creation of the PMO department at Lauterbach und Partner. Originally, I come from the field of film production.
What is the core business of Dr. Lauterbach und Partner GmbH?
Lauterbach und Partner is an SAP-based company offering a software industry solution for the printing and packaging industry.
What does the project landscape in your company look like?
As we are a software company, our projects consist of numerous customer and line projects of various types; implementation, optimization, rollout and line projects. We have projects that have been running with roll-outs for three years, but we also have significantly shorter project durations. Our standard projects run for about six months. During this time, a complete implementation with SAP, the implementation of customer-specific requirements and individual extensions takes place. On average we have 20 projects a year.
In addition to external projects, we also have an internal project world. Our entire time recording runs via Blue Ant, so we also have activities that are not assigned to customers. We book these activities on department line projects and try to plan only 80 percent of our employees. The other 20 percent will then be used for support cases for existing customers. 
What led you to Blue Ant?
 The main reason for introducing multi-project management software was the strong growth of the company in recent years. As the number of employees increased, so did the number of projects, and at some point the existing Excel solution simply became too confusing. This made it necessary to install multi-project management software. With such a tool you can keep an eye on bottlenecks, check resources and plan better. We were able to check where money is lost due to rebooking of times that are no longer included in the invoices. That's very important.
Mr. Steinbrecher, why did you choose Blue Ant?
The selection process started with three different software vendors, all of which we liked relatively well. A decisive point for Blue Ant was the interface to SAP - since SAP is our main business. In addition, one provider did not make an offer, which meant that they were immediately eliminated. In the end, however, we liked the Blue Ant interface and the contact to proventis so much that we were quickly sure that we would continue with the solution. The possibility of modular construction fit with our ideas. We did not have to start with a full solution and were able to progress one step at a time. So we were able to first introduce the time recording and attendance system, and then slowly get an insight into the projects.
How did the introduction of the software go?
We spent three months with the pre-planning and the selection. After deciding on Blue Ant, it took us a little longer to go live with the attendance and the time recording. Then the project management started. All in all, it took us a good year to program and set up our interfaces to SAP.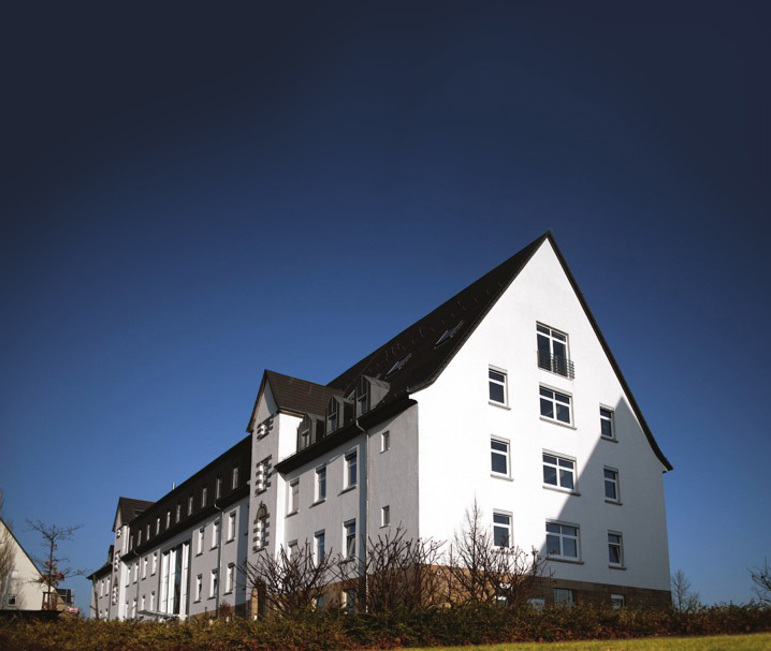 Company headquarters of Dr. Lauterbach & Partner GmbH
Can you name a typical scenario in which the use of Blue Ant helps?
 With Blue Ant we have a direct resource representation of the past and can see which employee did what and when. In the stored knowledge database, we have integrated a resource management system that shows exactly which consultant is free for which area. The percentage distribution provides a good overview of this. The overall picture of our project landscape is definitely positive.
Which systems run in the background at Dr. Lauterbach und Partner and which interfaces were required?
We have set up our Blue Ant in such a way that work-times are recorded completely in the software by the employees. However, the entire financial side runs with SAP. We track the times of our project managers and then approve them. The invoices are all created in SAP. We transfer the booked times from the export to SAP via the web service. At the moment the export to SAP is running, but we are in the process of creating service orders in SAP and then sending them to Blue Ant. In addition, we are currently installing the JIRA ticket system in support. The interface should run as follows: Jira to Blue Ant, Blue Ant to SAP and also the other way around. 
How high do you estimate the administrative effort after installation?
Our PMO is permanently occupied with Blue Ant and plans resources even beyond the project managers. Here we have the sovereign planning power in the company, so to speak; a kind of central planning.
Which main functionalities do you currently use in Blue Ant?
At the moment we use time recording, attendance and absence reporting, project management, portfolio and program as well as the status report as a large tool for controlling the individual projects. In future, however, we plan to also include business travel and receipts, and the knowledge database is to be developed further. We have gained new employees, which should streamline and standardize the process of knowledge recording. In order to familiarize our employees with Blue Ant, we have created a PowerPoint presentation, which the employees can use for preliminary information. Then they are trained individually or in groups and slowly sensitized. Afterwards, colleagues have another two to three weeks to familiarize themselves and then address any problems and questions on the later training course.
How was the cooperation with proventis?
The cooperation with proventis is going very well. As soon as we have a problem, the Blue Ant support team gives us prompt, competent answers and tries to solve all our problems. 
Thank you very much for talking to us, Mr Steinbrecher!
(Client Review from 2018)